GET A QUOTE!!!
For information about our material handling equipment, furniture and supplies with quotations for manufacturer, exporter, services to wholesale and branded companies - contact us today.
FEATURED MATERIAL HANDLING PRODUCT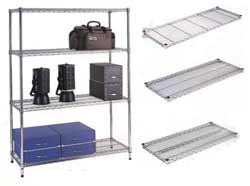 Featuring four types of finish and durable, flexible design, our WIS series of modular wire shelves offers a practical, inexpensive storage system for retailers, warehouses, supermarkets, etc. The wire construction allows for free air flow, minimizing dust and mold buildup while remaining stable and durable for industrial environments.
ABOUT HOUSE WAY


MEET US SOON AT...
INDEX DUBAI 2004 The 14th Middle East International Furniture, Interior Design & Shopfitting Exhibition
IFFT 2004 - International Furniture Fair Tokyo 2004
Learn more about these two trade shows and where you will be able to find us. >> Click here for more
Taiwan Storage Furniture Manufacturer
House Way Co.,Ltd. is a leading Taiwan B2B exporter company of industrial strength material handling equipment and storage products for efficient and lasting display applications. We are a supplier of top quality shelves, racks, containers, trolleys, trucks, carts, desks, chairs, and cabinets.
| | |
| --- | --- |
| We are dedicated to supplying wire and metal storage equipment systems that meet the highest standards. We are now ISO Certified (ISO 9001:2000) for the 'Quality Management System' of 'wire shelving and furniture'. | |
WELCOME to House Way Wire and Metal Furniture!
Please look around the site and if you like, contact us for more information about our company, products, accessories, manufacturer services or with any questions you need addressing.
Phone: +886-4-2437-1717
Fax: +886-4-2437-7699
MANUFACTURER SERVICE


Your Storage Furniture Exporter Company
No matter what your requirements, at House Way Taiwan we make every effort to ensure you are provided with the highest quality products and accessories available. We specialize in the following storage equipment:
- shelves
- racks
- wire mesh containers
- trucks and trolleys
- carts
- wire workstations
- chests and cabinets
- and much more
House Way is an international B2B exporter company and distributor. We have clients worldwide who come back to us again and again with their orders. We are sure we can accommodate your needs with exporter solutions that suit you. After all, we know that developing a strong client relationship with you helps us both grow together.
Whether you have questions about a particular item or service, or specific criteria that needs to be met regarding exporting of your order, please don't hesitate to contact us and you can be sure...
WE WILL HELP YOU ANY WAY WE CAN!
You can also visit our contact page and fill in our feedback form to request a quote on bulk orders of any items you are interested in from our range.